GYMNASTICS SUCCESS AT THE ISGA NATIONAL CHAMPIONSHIPS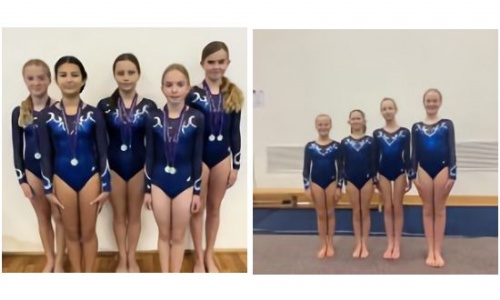 Many congratulations go to our U13 Gymnastic team!
Many congratulations go to our U13 Gymnastic team who won gold at the ISGA National 2 Piece Gymnastics Championships, held at St Catherine's School Bramley, in Guildford.
Excellent performances by India A, Rosie D, Elizabeth H, Isla H and Alessandra K. Individual medals were also awarded to Rosie 1st place, Elizabeth in 2nd place and India 5th. Alessandra & Isla came 8th and 9th.
Competing for the very first time, the U10 team of Rosie A, Rhiain E, Indira H, Lucie B and Rosa A all performed with great confidence. Rosie came top of the team and was awarded a 5th place medal for her efforts.
The U11 team of Honor H, Isla B, Issy D-D and, competing for the first time, Isobel S-M, produced some very strong vaults and confident set floor routines. Issy was in top place for the team; she scored a very impressive 9.40 for her voluntary vault.
Congratulations to all our Gymnasts.